Father's Day is just around the corner and nothing says sentimental by creating a handmade card. Why not get creative with your kids and help them make a DIY Father's Day card? Here are 12 Father's Day card crafts for kids that you can make yourself.
Browse our DIY and crafts related content.
1. Father's Day DIY Paper Award Ribbon Card
So you have the world's best dad in you home and he deserves some recognition? Why not have the kids make this award ribbon craft that's just perfect for Father's day.
2. Father's Day Dinosaur Card Craft
Have a little one who is obsessed with dinosaurs? Then they well love making this dinosaur handprint card idea for Father's Day! We are sharing a free printable volcano background template with the punny saying, "Dad, You Are DINO-MITE!" on it.
3. Father's Day Handprint Card
In search of a cute Father's Day craft to do with the kids? This Little Man handprint canvas keepsake makes the sweetest gift for dads or grandpas. If a boy is making it, he can have the handprints represent him and write, "Happy Father's Day from your little man!" Otherwise the kids could make their dad from handprints.
4. Father's Day Shirt Card
Learn How to Make a Father's Day Shirt Card in no time – use our printable template to make the perfect shirt and tie each and every time or just follow the instructions and make one without the template, it's really easy either way.
5. Father's Day Monster Handprint Card
If you love how cute monsters can be or if you love calling your kids your monsters – then this easy Monster Handprint craft will be a big hit! We turned these handprints into cards so you can use them for Father's Day, a birthday card or even just make them as a fun Halloween craft.
6. Father's Day Thumbs Up Card
We've got another homemade fathers day card idea ready for you and this one is a funny one too! Make a Father's Day Thumbs Up Card together with your kids. A fun 3D card that you can either make by using our handy template or by tracing a child's hand (this making it even more personal).
7. Father's Day Bee Card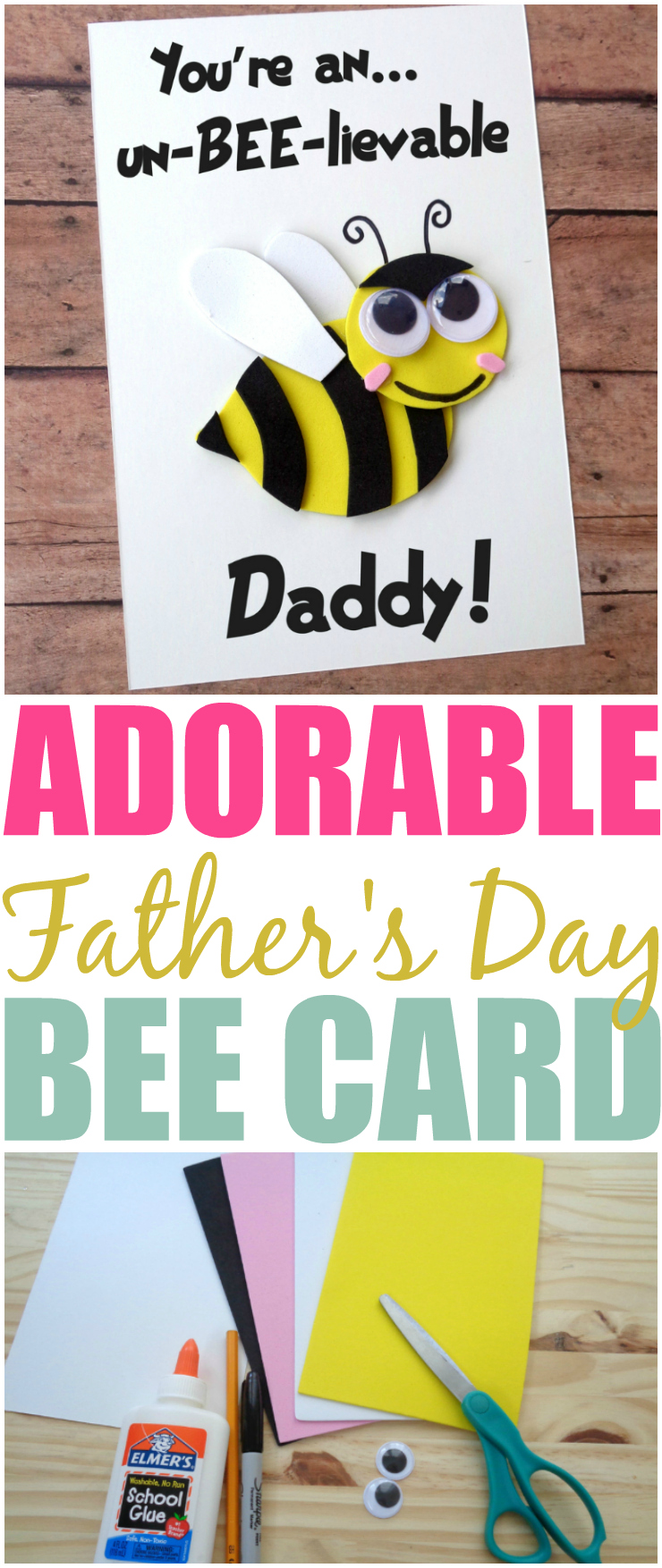 Today I'm sharing this adorable DIY bee Father's Day card. It's a perfect craft for the older kids to do on their own. If you have a toddler like me, you will need to assist them in making this card for their dad.
8. Father's Day Fish Card
Recently I've been looking for some Fathers Day cards that kids can make and while I've found a lot of cute ideas out there I really struggled to find much that younger kids can do so I put my thinking cap on and came up with this cute fish card.
9. Father's Day Tomato Card
Father's Day will be here before we know it! While it can be difficult to know what type of gifts to get for Dad for Father's Day, one thing he is sure to love is a card made by hand. This DIY Father's Day Tomato Card is perfect for Dad to let him know how much he is loved! It's perfect for the dad who likes to garden or to eat healthy foods.
10. Father's Day High Five Handprint Card
Father's Day is right around the corner so to make sure Dad feels loved and appreciated we have an easy handprint craft for the kids to make.
11. Father's Day Trophy Card
Who's the best dad in the world? Let the dad in your home know they are number one with this Father's Day Trophy Card (comes with a handy template so every trophy will be perfect).
12. Father's Day Rocket Card
This Father's Day show dad how much you love him with a DIY Father's Day card that your little one can make. It is a fun and easy rocket card with the message: I love you to the moon and back! that will melt dad's heart.
DiamondCarter.com