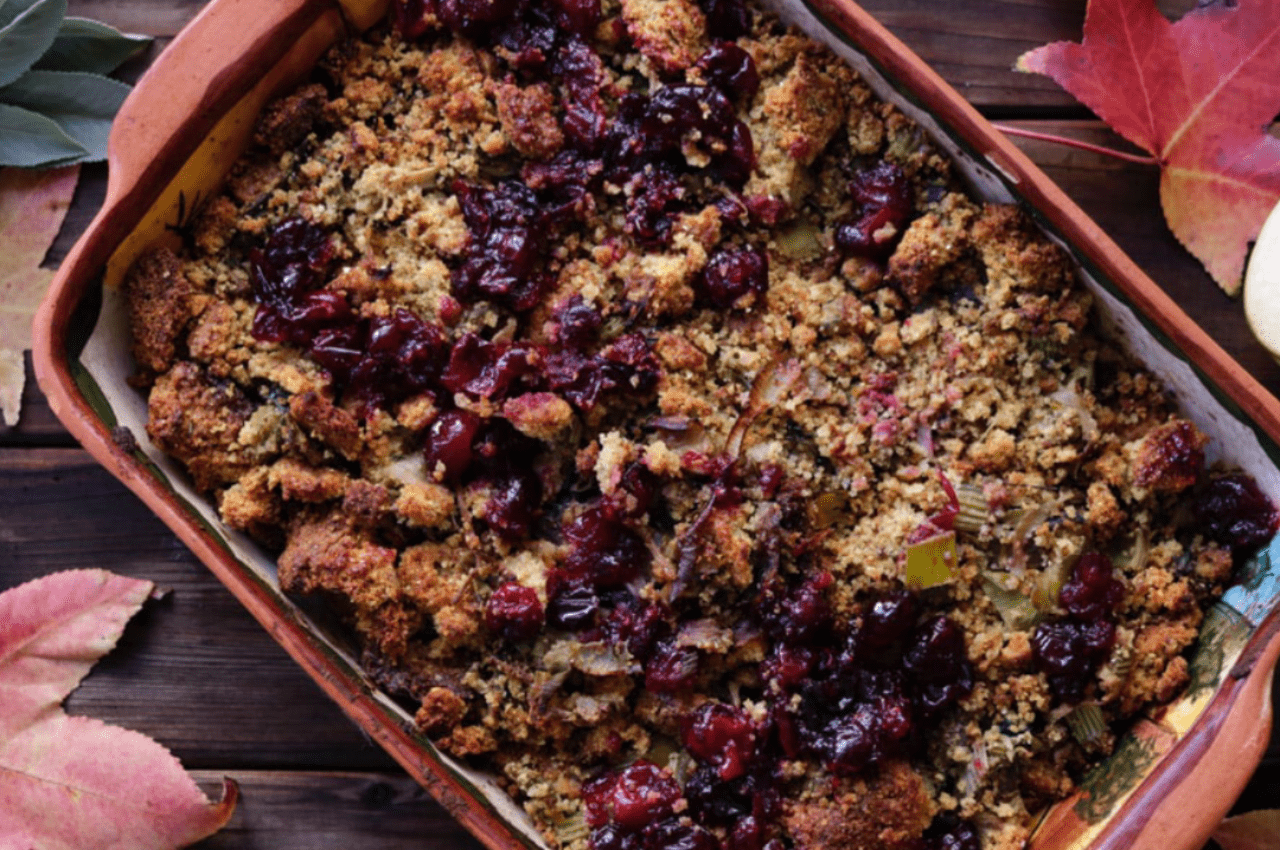 Thanksgiving is just around the corner and what better way to make one of these 15 Delicious Thanksgiving Stuffing Recipes. From herb stuffing to sausage stuffing.
1. The Best Homemade Stuffing
This is literally the BEST Homemade Stuffing Recipe. It has everything you love about a classic stuffing recipe, celery, onion, apples, tons of delicious flavor, all in a great sausage stuffing recipe.
2. World's Best Thanksgiving Stuffing
This recipe makes one casserole dish full and will serve 14 to 16 people if being served with Thanksgiving dinner. It would serve 8 as a solo side dish.
3. Traditional Herb Stuffing
Traditional Herb Stuffing is very easy to make and filled with fresh, flavorful herbs. It'll be a hit on any Thanksgiving table!
4. Classic Stuffing
Try this Classic Stuffing recipe to stuff your next turkey or to bake alongside your turkey.
5. Easy Stuffing Recipe
This Easy Stuffing Recipe will complete just about any meal! Celery, onions, and butter are tossed with dried bread cubes, then topped with broth and baked until hot and golden.
6. Best Thanksgiving Stuffing
Thanksgiving stuffing is a classic holiday favorite of mine! It's always been the best part about holiday meals for me. And it's so easy to make a vegan version of it! Packed with seasonal spices like summer savory and thyme, this vegan stuffing recipe is super cozy. Make this stuffing recipe as the side for your next vegan Thanksgiving meal! Pair it with other vegan Thanksgiving recipes for best results.
7. Homestyle Sausage Stuffing
My Mom's traditional Thanksgiving stuffing, the best stuffing in the world! Use it to stuff a turkey, or bake in a casserole or muffin pan
8. Sausage, Apple, Cranberry Stuffing
This stuffing recipe is so easy. Sausage, apples and cranberry combined with fresh herbs and buttery toasted bread crumbs!
9. Sausage Stuffing
This easy Sausage Stuffing recipe is our absolute favorite! Loaded with sausage, cranberries, apples and tons of fresh herbs it's the perfect addition to your holiday feast!
10. Roasted Chestnut Stuffing Recipe
This Roasted Chestnut Stuffing Recipe is bursting with robust flavors! Rich, butter, salty, sweet and herbaceous, this Thanksgiving stuffing is a million times better than the pre-prepared mix and so easy to make!
11. Pancetta Chestnut Stuffing
This savory pancetta chestnut stuffing is perfect for Thanksgiving and Christmas dinners. Plus, it's dairy free and can be made ahead of time. Makes about 12 servings.
12. Ciabatta and Sausage Stuffing
This rustic stuffing from Thomas Keller's Bouchon Bistro is made with crusty Italian bread and laced with fresh herbs, aromatics, and sausage. The staff at the restaurant makes it as part of their annual tradition of serving a Thanksgiving feast to Yountville-area veterans and their families.
13. Sausage and Apple Stuffing
This sausage and apple stuffing is egg-free & dairy-free. It's ready in 40 minutes from start to finish! Quick and tasty stuffing recipe that does not require any chilling, nor drying-out the bread in the oven.
14. Sourdough and Sausage Stuffing Casserole
Traditional stuffing casserole is made with crusty sourdough bread and seasoned with pork sausage, leeks and herbs.
15. Sausage, Apple, Cranberry Stuffing
This festive stuffing recipe is loaded with savory ground sausage, fresh apples and dried cranberries. The perfect side dish whether your serving turkey or ham this holiday season.
DiamondCarter.com