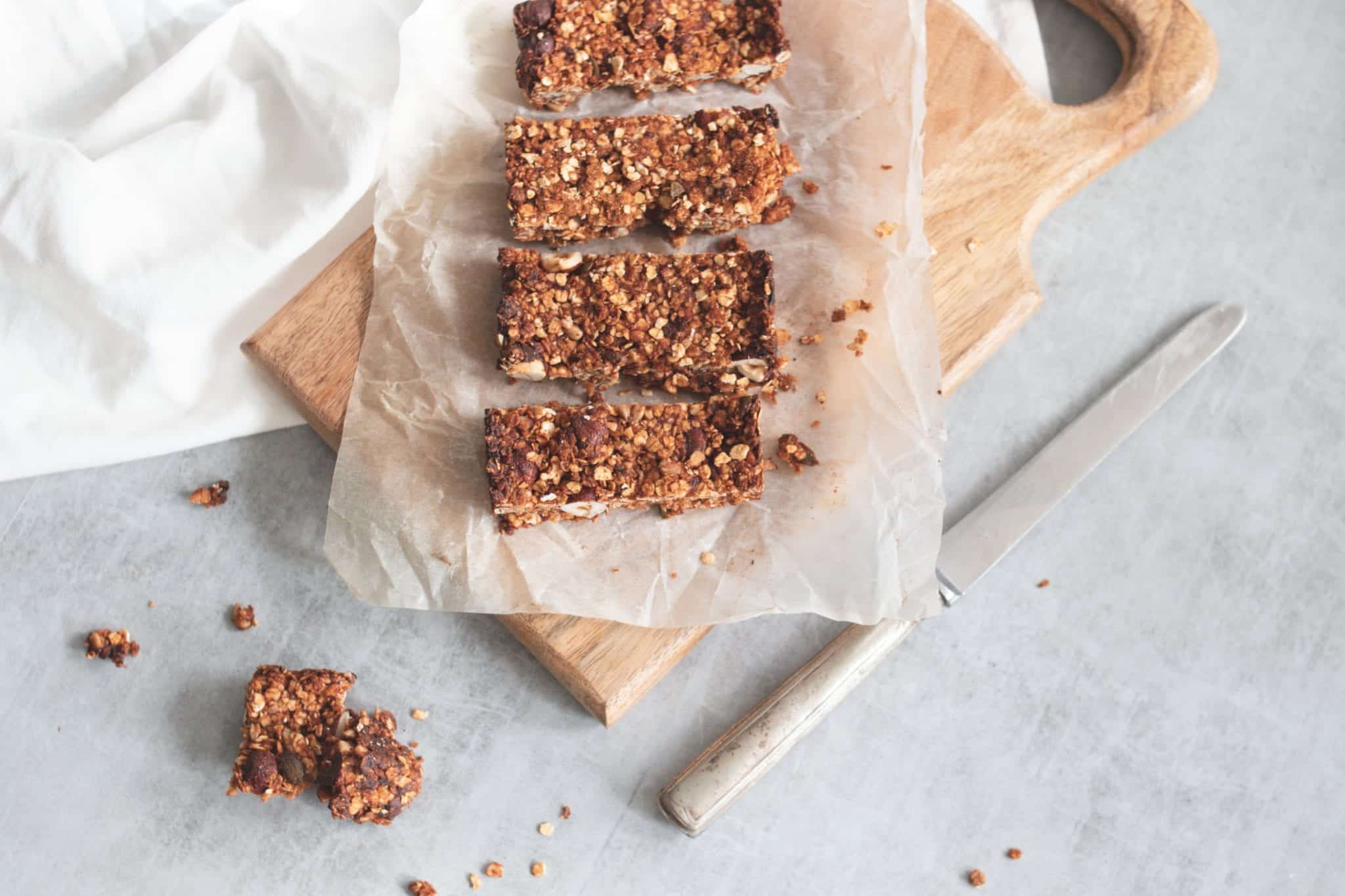 Granola bars are nutritious, but they also make great snacks. These 15 healthy granola bar recipes are perfect for pre workout snacks, or to include in your kids lunchbox.
1. 5-Ingredient Peanut Butter Granola Bars
5-Ingredient Peanut Butter Granola Bars are a breeze to make and perfect for lunch boxing, grab-and-go fuel, or afternoon snacking for kids & adults.
2. The Best Healthy Granola Bar
Easy healthy no bake granola bar recipe made with nuts, coconut, chocolate chips and/or dried fruit. See the how to video on how to make this easy adaptable snack!
3. No Bake 6 Ingredient Granola Bars
This No Bake Homemade Granola Bars Recipe has just 6 ingredients and takes 10 minutes to make. My healthy granola bars are perfect to keep in your purse for emergencies or send in your child's lunchbox to school.
4. Healthy Chocolate Chip Granola Bars
These delicious, easy, and healthy chocolate chip granola bars are made dairy free, gluten free, and naturally sweetened with coconut palm sugar and maple syrup
5. Chia, Quinoa & Banana Granola Bars
These banana granola bars dried fruit, quinoa, oats and chia seeds. They're a great on the go breakfast or fuel up snack! Gluten free too.
6. Trail Mix Peanut Butter Granola Bars
Trail Mix Peanut Butter Granola Bars are chewy no bake granola bars with chocolate chips, oatmeal, and honey. An easy, no bake granola bar recipe that's perfect for healthy breakfasts and snacks.
7. Coconut Granola Bars
These homemade chewy coconut granola bars are quick and easy to make and are perfect to have on hand for tucking into the kids lunch boxes!
8. Dark Chocoalte and Cherry Granola Bars
9. Homemade Chewy Healthy Granola Bars
The chewiest healthy granola bars you'll snack after school or for a work break!
10. Super Seedy Granola Bars
9-ingredient vegan and gluten-free granola bars loaded with 4 kinds of seeds: hemp, sunflower, flax, and chia! So healthy, naturally sweetened, and perfect as an on-the-go snack.
11. Healthy Oatmeal Breakfast Bars To-Go
Soft and chewy in texture, these healthy oatmeal breakfast bars are full of fibers and nutrients, they're naturally gluten free and dairy free, suitable even for vegans.
12. Healthy Raspberry Coconut Granola Bars
A delicious on the go breakfast and the perfect morning snack. Gluten and dairy free!
13. Protein-Packed Chewy Peanut Butter Chocolate Chip Granola Bars
Have you ever tried making a new recipe and completely failed? That happened to me recently. Instead of ditching it completely, I decided to experiment. What I ended up with were these delicious Protein-Packed Peanut Butter Chocolate Chip Granola Bars that the kids just couldn't get enough of.
14. Apple Almond Sweet Potato Granola Bars
Easy homemade granola bars contain veggies, fruit and nut butter.
15. Peanut Butter Banana Oatmeal Breakfast Bars
Oatmeal breakfast bars aren't just a healthy breakfast recipe; they make great afternoon snacks, too. Filling, kid-friendly, and packed with a few of my life-long ingredient loves (peanut butter, banana, and honey, I heart you), these easy homemade baked oatmeal bars are yummy, hearty, and guaranteed to keep you powered for hours.
DiamondCarter.com